Designed for style and speed, the all-new completely electric Ford Mustang Mach-E is truly a performance vehicle unlike any other. Featuring an interior designed for comfort and today's always-connected driver, an exterior that features dynamic curves and bold lines that hearken back to the halcyon early days of the Mustang's heritage, and a powertrain driven by an eco-friendly and potent electric system, it is safe to say that the Mustang Mach-E has broken the mold and shattered all preconceived notions regarding electric performance vehicles in Wichita KS.
Want to learn even more about what this dynamic new member of the Ford family brings to the table in terms of amazing craftsmanship, outstanding attention to detail, and its plethora of creature comforts and tech features? Then spend a few moments reviewing the highlights we've showcased down below. From here, we know it won't be long until you reserve one of your own and take the roads of Wichita by storm at the wheel of the powerful and alluring Mustang Mach-E.
Touchscreen Controls
Enjoy an impressive 15.5-inch touchscreen as you stay plugged into the digital world and enjoy all that the Mustang Mach-E's connected driving experience has to offer.
Bang & Olufsen Sound System
Premium audio generated by an expansive 10-speaker sound system and unique sound bar (complete with surround sound technology) ensures that the soundtrack to your next adventure behind the wheel is always playing loud and clear.
Wireless Charging
Say goodbye to cords and keep your favorite mobile devices powered up and ready to go thanks to the convenience of wireless charging functionality found directly in the cabin of the Mustang Mach-E.
Light-Up Charge Port
Day or night, the light-up charge port is always easy to find and ready to keep your Mustang Mach-E charged up and ready to dominate the roads of Wichita.
Ambient Mood Lighting
Expressing yourself has never been easier thanks to the seven available ambient mood light options found in the cabin of the Mustang Mach-E: Orange, Blue, Ice Blue, Soft Blue, Red, Green, and Purple.
E-Latch Door System
Leave the keys in your pocket or purse with the intelligent and easy-to-use E-Latch system. All it takes is a simple touch to unlock the door of your Mustang Mach-E.
Panoramic Fixed Glass Roof
Drive in style with the optional Panaromic Fixed Glass Roof and its stunning view of the wide open sky as you race along Wichita roads.
Plenty of Legroom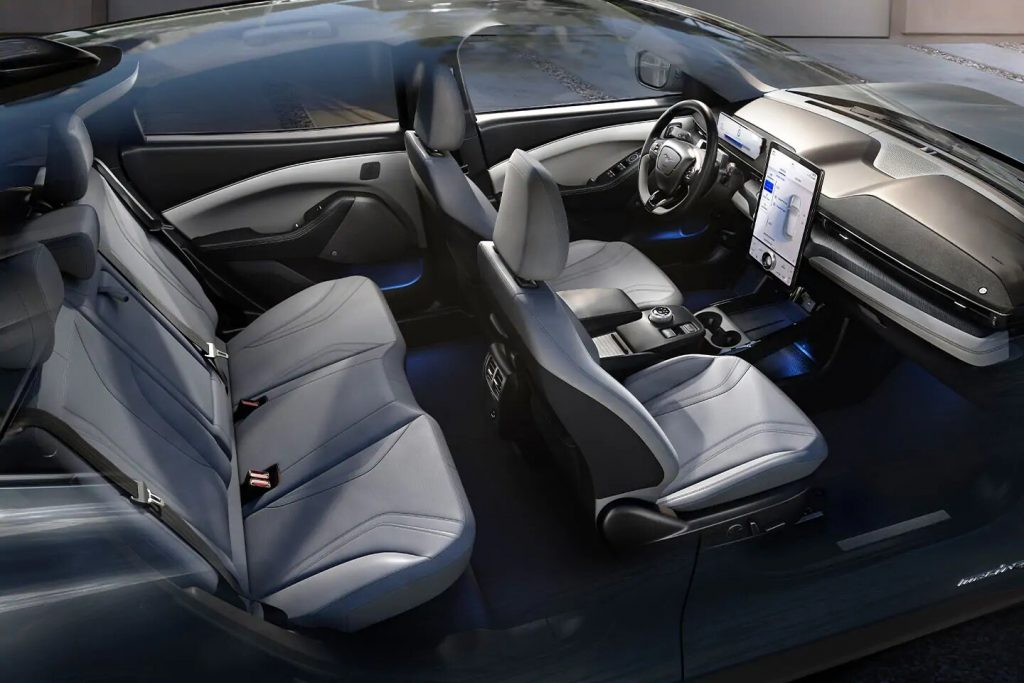 Who says a performance vehicle can't also be spacious? The Mustang Mach-E provides ample legroom, thereby ensuring that you and your passengers never feel cramped while on the open road.
Seamlessly Connected Tech
Handle calls, listen to music, and do so much more with a smart, connected command center built directly into the dashboard and designed with your digital needs in mind.
Front and Rear Storage
Front and rear storage space abound in the Mustang Mach-E. The washable, water-resistant front trunk is also perfect for all-weather cargo thanks to its built-in drain.
Signature Mustang Tailights
Pay homage to the Mustang's storied Pony past via the Mach-E's signature tri-bar sequential LED taillights.
Iconic Pony Badging
Like any true Mustang, the Mach-E features iconic Pony badging on the front grille and rear liftgate and sends a clear message to the competition that this latest member of the Mustang family is ready to excite.